Intoning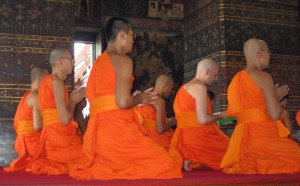 This exercise can be used as an early step in a vocal warm-up, to help get on voice and to encourage resonance, or as a text exploration. For now, let's focus on the voice side of things.
Intoning is a way of speaking that basically means speaking on a monotone, with a flat pitch contour. Imagine speaking like a monk chanting—why not try reading this text all on one note. The challenge here is that you may be tempted to sound robotic (mp3), with all the syllables of the words equal. You need to sound non-robotic (mp3), by using all aspects of your voice, its tempo, rate, vocal quality, and loudness, to accent the words and syllables that are important, all while sticking to the same pitch. If you know a piece of text from memory, why not speak it now, and see how it feels.
With each breath, you should pick a new pitch. You can choose to start somewhere lowish in your range and slowly work your way upward to higher pitches with each breath, or you can work in a more random way, jumping around from high to low to medium with each breath. The key is not to get stuck on one pitch only.
To focus on voice, you could do this as if you were speaking gibberish, or merely use a single syllable sound like "huh", "muh", or "bay" IPA: [hʌ, mʌ, beɪ]. But that gets pretty boring pretty quickly, so I would recommend that you use gibberish or omnish (gibberish that uses all the sounds of the world's languages, not just a few sounds). Why not "say" something in some way, even if it isn't really text?
So how is this not singing?
It isn't singing because you're still making sound like you're talking, and, if you're doing it right, you're not listening to yourself to make the sound "pretty". This might not be very easy for someone who has done a lot of singing. If you're struggling with this idea, try speaking a little bit of text and then switch into intoning, and see if you can maintain the vocal quality that you have from speaking, just flattening out your pitch. Or think of yourself as the most boring speaker, using a monotone like Ben Stein.
You want to challenge yourself to work your way down as far as you can go in your range and then up as far as you can go (comfortably). You can flip into headtone/falsetto if you want, but often it is good to just stay in chest tone for as long as you can, and then come back down.
Emphasis through Length
In order to make words stand out, we often use pitch to emphasize a key or operative word in a sentence. Here we don't have that luxury. Instead, you need to use loudness and length to reveal the importance of words. Using a text now, intone the text. Remember to keep changing pitches at the end of thoughts, but to stay flat on a single pitch through the thought. It's easiest to lengthen important words, but don't forget that you can also make words stand out by shortening them, though I'd be the first to admit that this is trickier and works better with some words rather than others.
Resonate the Tone
Whichever pitch you're intoning on, there is a natural, sympathetic vibration that will happen in your body and/head for that pitch. Try to feel where that resonance lies in your body, and do whatever you can to enhance it. As you move up in pitch, you'll likely feel that the vibration moves higher in your body/head; if you move lower, so too will the vibration. As you intone, work to make yourself as buzzy as possible.
We'll come back to this strategy in the future, but this is a great early step in a warm-up, as a way to get on voice, and it's also a great resonance exercise ¾ of the way through your warm-up, and it's a great text exercise that you can do at the end of a warm-up. Of course, you would never want to use this one exercise three times in a single warm-up, but it's potential to add some spice to your warm-ups is very strong.